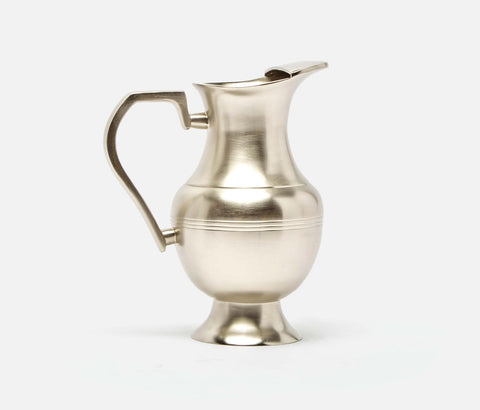 Dyan Silver Pewter Pitcher
Finish: Pewter                                                                                                            Material: Brass

A perfect accent for an eclectic spread, this pitcher has a hint of the exotic. Bring a sense of travel to your tabletop with this heavy pewter pitcher, outfitted with a stylish guard for splash-proof pouring.
• Hand Wash Only, Not Microwave Safe, Not Dishwasher Safe, Not Oven Safe, Freezer Safe
• Imported

SIZE:  7.5"L x 4.5"W x 9"H, 41 oz.                                                                      
RETURNS
All returns must be authorized by our Customer Service Department with a Return Authorization Number. Unauthorized returns will not be accepted, and are not the responsibility of Herringbone & Co. Returns will be subject to a 25% restocking fee, plus the charge for freight both ways. It is the customer's responsibility to pack items appropriately for return. Customers will not be given credit for authorized returns that arrive with damage due to poor packaging. If the return is a shipping error on our part, or the result of a manufacturing defect, we will replace the item at no additional cost to you.
Returned items must be in their original condition and packaging, and you shall prepay and be liable for all charges in connection with the shipping of returned goods, including insurance.  Photographs are required for all return requests.

CARRIER DAMAGES: Claims for damage to products that do not arise from defects in material or workmanship are the responsibility of the carrier. If the shipment arrives with visible exterior damage (crushed box, broken crate, moisture, etc) note the damage in writing on the carrier's delivery receipt before you sign for the shipment and release the delivery driver. A claim for shipping damages will not be accepted unless the damages are noted on the carrier's delivery receipt. Within two (2) business days of receipt, you must (a) unpack and thoroughly inspect shipment for damaged items, (b) SAVE ALL PACKAGING UNTIL CLAIM IS RESOLVED and (c) email or call Customer Service to report damaged items and to receive a return authorization number (RA#). We will, at our option, repair or replace the item, or provide you a credit. If damaged item(s) are to be replaced or credited, the items must be returned prior to shipment of a replacement or authorization of credit. For all returned products, only use the shipping documents provided. Shipping reimbursement will not be made for use of non-authorized shipments. All returns must be properly packaged with original packaging (unless otherwise instructed), clearly labeled with correct RA# and scheduled for pickup within five (5) business days of receipt of shipping documents.
---
We Also Recommend
---